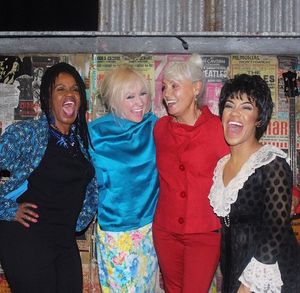 Great reunion 
All Or Nothing Musical Great reunion with my 60s bestie Sandy Sargent, the wife of Ian McLagen of the Small Faces and being able to reminisce on our days together watching Carol Harrison's amazing all or nothing Musical about the Small Faces.  
I am so glad that we were able to catch the last week of the west end performances of the Musical, meet up with Carol Harrison who also wrote, directed, produced and played Kay Marriott - the mother of Steve Marriott. Its a pity that the extended west end run has be closed so soon.  
As well as singing Angel of the Morning and Tin Soldier another Scene was added to the Musical starring Karis Anderson  singing The first cut is the deepest and brilliantly playing young PP Arnold.
About the Musical
1965. A new phenomenon erupted out of London's East End. It was the essence of all that was cool. It was Mod. 
All Or Nothing- The Mod Musical follows the rise and demise of Small Faces, the band who encapsulated all that was mod - a unique blend of taste and testosterone, clothes-obsessed and street-wise - but most of all, a dedication to rhythm 'n' blues. 
This stunning new home-grown musical celebrates the unique mod sound including an arsenal of brilliant hits like Whatcha Gonna Do About It, All Or Nothing, Tin Soldier, Lazy Sunday, Here Comes the Nice and Itchycoo Park. 
Having played to packed houses and standing ovations across the UK, All Or Nothing - The Mod Musical played a limited season at The Ambassadors Theatre from 28th March until 12th May 2018.
Here is more information about the show http://www.allornothingmusical.com