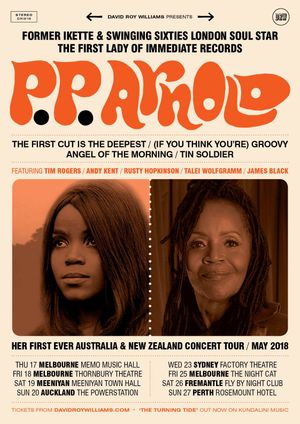 Join PP Arnold in her first ever tour of Australia and New Zealnad. 
PP's tour down under follows the release last year of "The Turning Tide", an album of unreleased recordings from the late '60s and early '70s, produced by both Barry Gibb and Eric Clapton. It cracked the UK Top 30 upon release, recently made the NZ iTunes Top 20, and has been the subject of many accolades and much airplay since its release.  
Although this will be PP's be first concert tour of these parts, she has previously performed here as a featured singer with Pink Floyd's Roger Waters in 2002 and 2008. In recent times she has also recorded with Primal Scream, Oasis, Ocean Colour Scene and Paul Weller. She has a voice that other artists love to work with; her first duet was with Rod Stewart on a single produced by Mick Jagger, way back in '67.  
Her timeless work has earned PP an ardent following amongst fans of '60s British rock and pop in addition to lovers of classic soul, and some of her early dance numbers are considered Northern Soul classics. Her status as an icon of her era when she starred alongside old friend Marianne Faithful in the final episode of the original series of "Absolutely Fabulous" in 1996 (for which she and Marianne especially recorded a new version of the program's theme song "This Wheel's On Fire").  
With her memoir soon due for publication and a new album in the can, co-written and produced by the Ocean Colour Scene's Steve Craddock and including a couple of duets with long-time supporter and fan Paul Weller, 2018 promises to be a big year for PP Arnold. Join PP and her dream Australian band for what will undoubtedly be amongst the most talked about tours of the year. 
Tickets and info here ➤ http://bit.ly/PPArnold
 Dates are :- 
★NEW SHOWS ADDED - PP Arnold ★ 

Due to popular demand, soul legend PP Arnold has added two more shows! 

New shows on sale NOW ➤ http://bit.ly/PPArnold
 
Sunday 20th May                    -  Auckland, Powerstation 
Friday 25th May                      -   Melbourne, The Night Cat 

Already announce dates: 
Thursday 17th May 2018     –     Melbourne, Memo Music Hall 
Friday 18th May                    –     Melbourne, The Thornbury Theatre 
Saturday 19th May               –      Meeniyan, Meeniyan Town Hall 
Wednesday 23rd May         –      Sydney, The Factory Theatre 
Saturday 26th May              –      Fremantle, Fly By Night Musicians Club 
Sunday 27th May                 –      Perth, Rosemount Hotel
Tickets and info here ➤ http://bit.ly/PPArnold