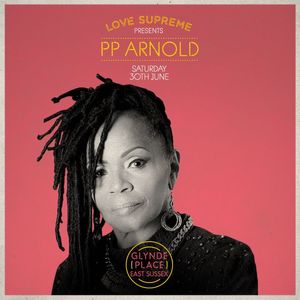 PP Arnold will be appearing on Saturday, 30th June 2018 on the Main Stage at The Love Supreme Jazz Festival, Glynde Palace, East Sussex.
PP Arnold is a legend! 
Arriving in England as an Ikette with the Ike & Tina Revue, PP was spotted by Mick Jagger who immediately convinced Andrew Loog Oldham to sign her to his "Immediate" record label. Several huge hits followed, the best-known being  'The First Cut Is The Deepest', Angel Of The Morning and '(If You Think You're Groovy)'. PP was one of the iconic faces of London's Swinging 60's. 
Pat has collaborated, recorded, worked and toured alongside such 
Luminaries as The Rolling Stones, The Small Faces, with her own band 'The Nice' led by Keith Emerson, Jimi Hendrix, Rod Stewart, Barry Gibb, Eric Clapton, Humble Pie, Nick Drake, Roger Waters, Ocean Color Scene, The Primal Scream, The Manfred's and the list goes on and on. Her session credits read like a Who's Who list that stretches across more than Four decades of Rock & Roll and Pop history. 
Photo Michi Nailao