Arriving in England as an Ikette with the Ike & Tina review in the mid-60's, PP was spotted by Mick Jagger who immediately convinced Andrew Loog Oldham to sign her to his label Immediate Records. Several huge hits followed, 'First Cut is The Deepest', 'Angel Of The Morning', 'If You Think You're Groovy' and so on… PP became one of the iconic faces of the 60's.
This year celebrates her 50-year anniversary as an incredible performing artist in the music industry and boy is she still going strong!!! To coincide with this wonderful heritage album, 'The Turning Tide', St James Publishing House is releasing her autobiography 'The First Cut Is The Deepest' around the October tour and a brand new solo album is on the horizon for next year, produced by Steve Cradock.
It was around 1968 when Immediate Records folded and PP found herself at a crossroad, looking for a new label that would give her the opportunity to continue to put out music and take her to the next phase of her musical journey.
The late Jim Morris and personal assistant to Robert Stigwood, can be credited as the catalyst which encouraged Barry Gibb to work with PP. After introducing PP to Gibb, who was already a fan of her music, it didn't take much encouragement for Barry to jump at the chance to produce a record with her. " I was so excited about working with him as I was a big Bee Gees fan and had already recorded 'To Love Somebody' on my second album 'Kafunta'" explains PP.
It was Barry who got PP a record deal with his manager Robert Stigwood (RSO Records) and consequently he also became her manager.
"A lot of time was spent rehearsing and learning the songs and I was so happy when we entered I.B.C. Studios to begin the recording process", remarks PP.
The recording sessions bring back happy memories for PP, with Bill Shepherd (Bee Gees, Gene Vincent) creating the beautiful arrangements we hear on the record today. "We recorded around ten tracks, eight of which made it onto 'The Turning Tide' "
The eight which feature on the album are, 'Born', 'Bury Me Down By The River', 'Give A Hand, Take A Hand', 'Happiness', 'The Turning Tide', 'High And Windy Mountain', a brilliant cover of 'Spinning Wheel' and the beautiful, 'You've Made Me So Very Happy'.
Sadly due to Bee Gee's commitments only half the record was able to be completed, and PP was heartbroken, as she had put her heart and soul into the recordings. At a lot loss on how to go forward it was the idea of her manager Robert to pair PP up with Eric Clapton.
"Robert arranged for me to be the opening act on the 'Eric Clapton, Delaney, Bonnie and Friends tour, and I put together a fantastic rhythm section, which included Steve Howe (Yes) on guitar, Ashton, Garner and Dyke with Leslie Duncan and Kaye Garner (Elton John, Tony Bennett, Burt Bacharach) and off we set" , explains PP.
Clapton was so impressed with PP's live performance he didn't need asking twice when Robert approached him to go into the studio with PP to finish off the record. Eric called in his Delaney and Bonnie band who later became Derek and The Dominos, along with Rita Coolidge and PP's dear friend soul singer Doris Troy. The end result was phenomenal, they recorded songs written by Steve Winwood, Van Morrison and Jagger, Richards.
"We recorded three covers, which are on this album 'Medicated Goo', 'Brand New Day' and 'You Can't Always Get What You Want' "
A further two tracks, 'If This Were My World' and 'Children Of The Last War', were added to this collection with the talented guitarist Caleb Quaye (Mick Jagger, Hall & Oates, Pete Townsend, Elton John).
These recordings were left sitting on shelves for many years due to industry politics, and still after all these years, PP could never fathom the thought that nobody would be able to hear them. It became her mission to let these recordings see the light of day, and not let this incredible piece of music history stay buried.
With the help of PP's current manager, Sally Cradock and music industry veteran Bill Levenson, whose past history includes putting together compilations for Bob Marley, Donna Summer and Jerry Lee Lewis, they began to recover these lost gems and fight for the right to release them, from various publishers who were not keen to part with them.
Steve Cradock (Ocean Colour Scene) began mixing the tracks, calling upon his old friend Paul Weller, who gladly allowed them to use his Black Barn Studio, and also his long time engineer, Charles Rees. The results were remarkable; after all these years, pieces of history were brought back to life again.
"These recordings document my growth and development after the 'Immediate' years and my struggle to survive being a relevant solo artist during a lot of lost years in my career. It's an amazing trip down memory lane that I am so thrilled can be experienced in the here and now".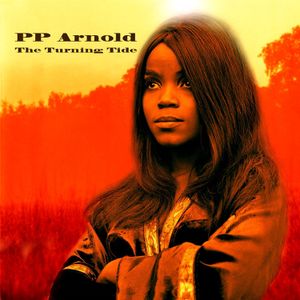 'The Turning Tide' will be released on October 6 on Kundalini Music.
For more info please contact gaby@greengabpr.co.uk or visit www.pparnold.com
THE TURNING TIDE TRACKLISTING
1. Medicated Goo – Written by Steve Winwood/Jimmy Miller and Produced by Eric Clapton.
2. Born– Written and Produced by Barry Gibb
3. If This Were My World – Written and Produced by Caleb Quaye and PP Arnold
4. High And Windy mountain – Written and Produced by Barry Gibb
5. Spinning wheel – Written by David Clayton Thomas and Produced By Barry Gibb
6. Bury Me Down By The River- Written by Barry and Maurice Gibb and Produced by Barry Gibb
7. Children Of The Last War Written and Produced by Caleb Quaye and PP Arnold
8. Brand New Day – Written by Van Morrison/ Produced by Eric Clapton
9. The Turning Tide – Written and Produced By Barry Gibb
10. You've Made Me So Very Happy – written by Brenda Holloway, Patrice Holloway Frank Wilson & Barry Gordy/ Produced by Barry Gibb
11. Give A Hand Take A Hand – Written and Produced by Barry Gibb
12. Happiness- Written and Produced by Barry Gibb
13. You Can't Always Get What You Want – Written by Mick Jagger/Keith Richards and Produced by Eric Clapton
TOUR DATES
September 23rd -Northern Soul Weekender – Butlins Skegness
October 6TH – Opera House – Jersey
October 11th – 229 – London
October 14th – The Plough Arts Centre- Torrington
October 18th – Old Fire Station – Carlisle
October 19th – King Tuts – Glasgow
October 20 – Pleasant's Theatre – Edinburgh
October 21st – Assembly Room – Aberdeen
October 23rd- The Riverside- Newcastle On Tyne
October 30th – New Vic Theatre – Newcastle Under Lyme